Makes: one cookbook

To make a Chilean cookbook, you will need one home cook from Chile, and one writer from the United States. Have each of them move to the other person's country for 15 years, and read each other's work as unwitting ambassadors from the place they have moved from.

Then, open a line of communication between them. We suggest using an NPR article on Chile's favorite bread called the marraqueta as a point of introduction. Add trust and patience and a whole lot of time. Brainstorming sessions on Whatsapp are a must, and methodical planning and execution of a book proposal are essential. Pitch five agents each per week until you get a bite. Circle back to agents who have not yet rejected the project. Choose among four interested agents, excited about all the fanfare.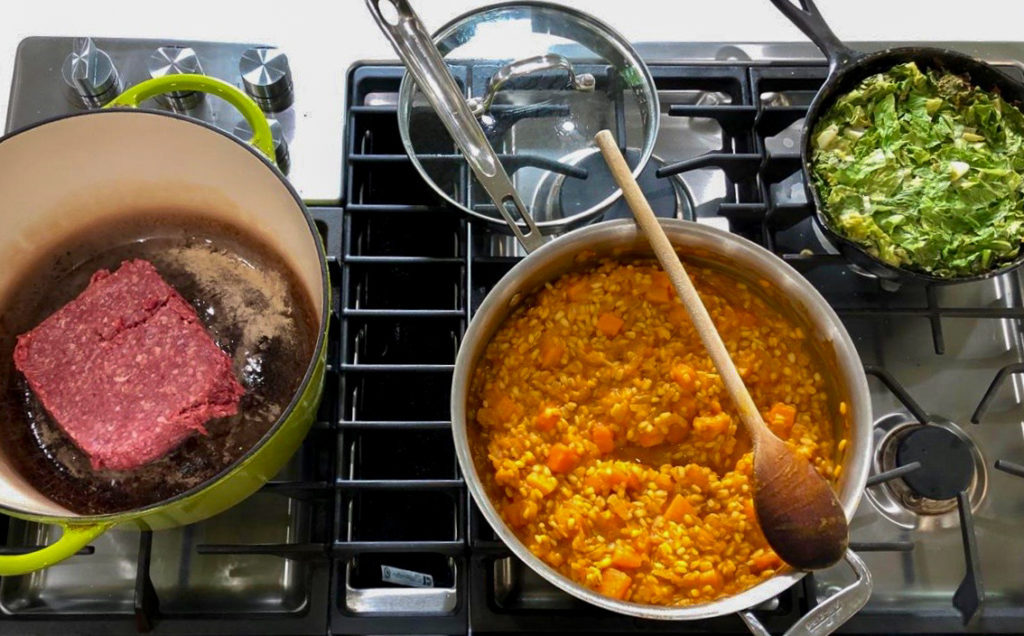 Choose an agent. Sign contract with the agent. Rewrite proposal under her tutelage and wait about six months.

Get an offer, and start writing the remaining recipes and texts for a total of 75. Resume weekly whatsapp meetings and google doc fanfare.

Agent changes agencies. Discuss whether book will move with her or stay with original agency. Book moves to new agency.

Four months later, sign a contract, giving you six months to send the completed manuscript. Hire a photographer. Plan to meet in Houston at the beginning of the summer to prep, cook, style, eat, talk about and write about 75 recipes over the course of eleven days.

Agent quits agenting and leaves book with new agent, the principal at the new agency.

Agent confusion be darned, forge on. Have cook plan out and purchase more than a refrigerator and pantry and overflow freezer worth of food, and schedule the recipes so they can overlap and not interfere and feed the writer, photographer, cook and satellite Chilean families living nearby, some of who will take in half of the cook's family.

Fly the writer, who has never met the cook, to Houston, whereupon the cook's husband (who the writer has also never met) picks her up, and drives her to the cook's house, where she will meet the cook and photographer for the first time.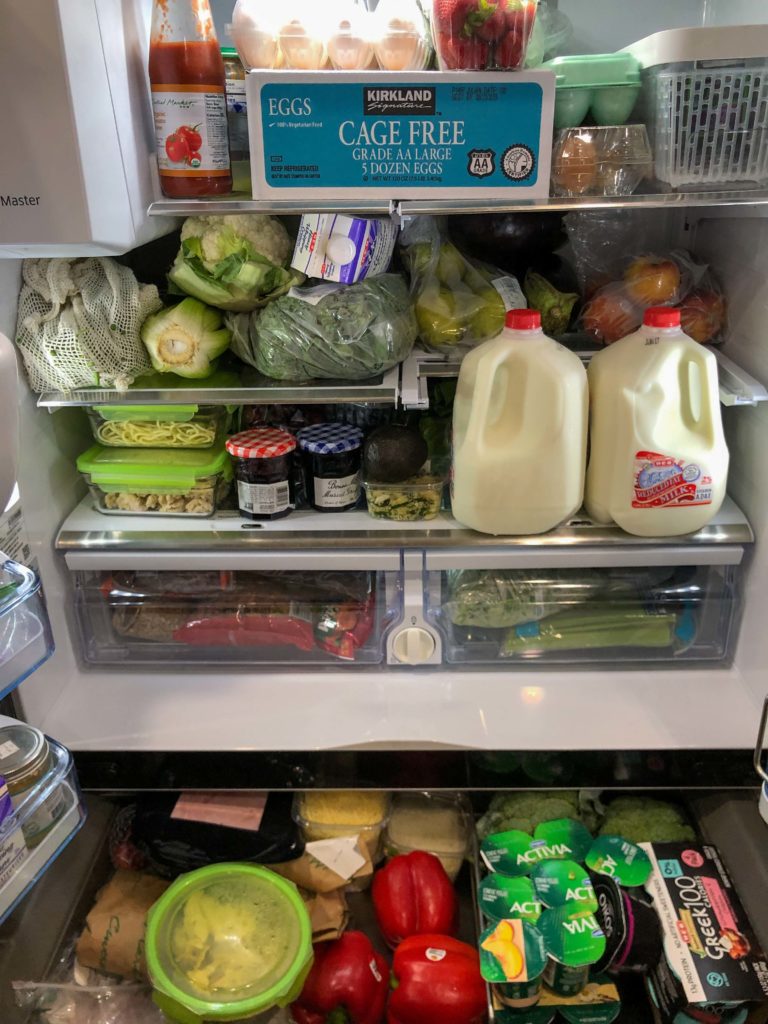 Evict half of the family that lives at the house. Take over all available spaces in bedrooms, office, kitchen, living room, balconies. Every day, set the alarm for 6:30 to be in the kitchen just before 7 AM. Work.

Cut, chop, dice, grate, blend, sear, simmer, poach, sauté, boil, fry. Have the cook lead, and the photographer and writer sous chef.

Style food, chase light. Hold forks aloft, drizzle syrup, break empanadas. Have the photographer lead and the writer and cook hold screens and reflectors and backdrops and utensils for photographer. Break for lunch.

One day, maybe eat summery porotos con riendas as a main, with brazo de reina for dessert and a colorful terremoto as a post-lunch drink (but not too much). You might find you are not that hungry because everyone forked through the papas doradas as soon as the photos were done. And they might have drunk some leche con frutilla early in the morning, and snuck a dobladita off the tray before packing them up.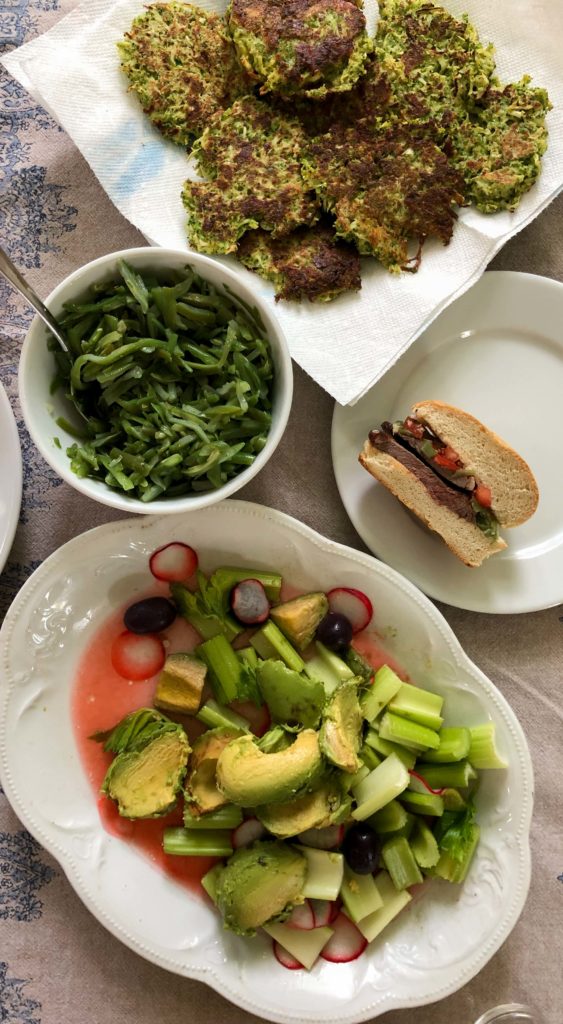 After lunch, send out writer to local grocery store with photographs of missing ingredients.

Cut, chop, dice, grate, blend, sear, simmer, poach, sauté, boil, fry.

Jump back in horror and alarm when a half gallon of milk jumps out of the fridge smashing to the floor. Participate in group clean up effort and covert glances of relief (between photographer and writer) that it didn't happen on their watch.

Send out writer to local grocery store for more milk.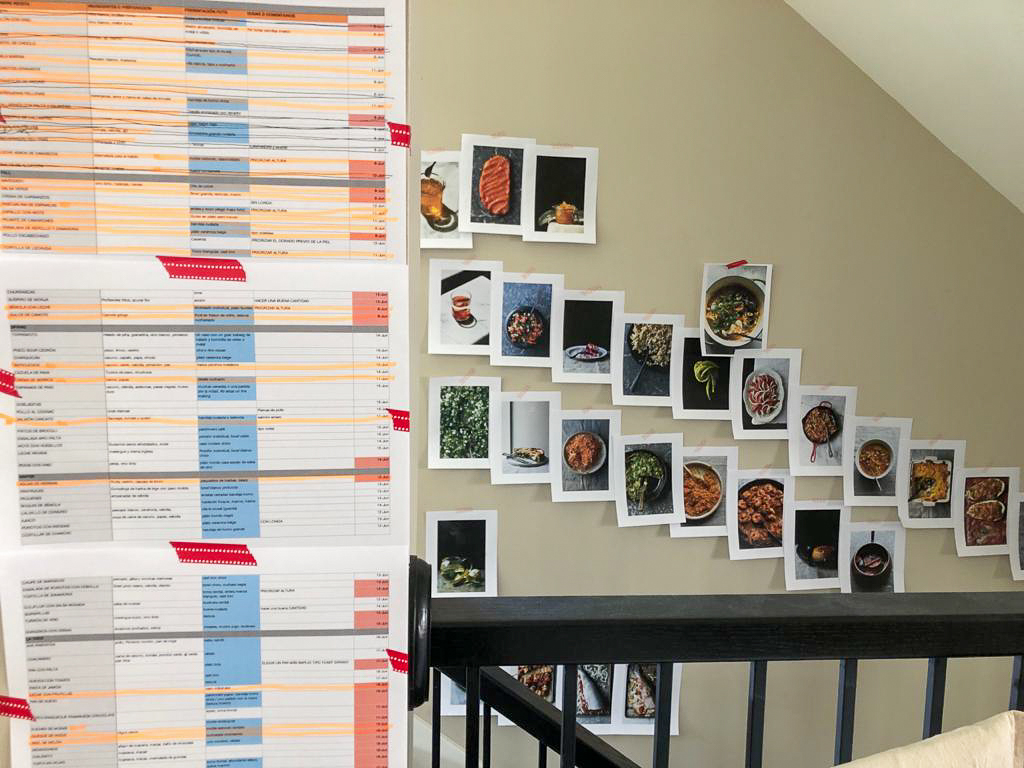 Break for once, enjoying pan con palta (avocado toast) and kuchen de mora, and maybe some leftover turrón de vino from the day before.

Post once, review all recipes prepared and photographed that day for changes in ingredients, cooking method, pan size. Have writer read existing texts aloud, while cook and photographer brainstorm and opine. Edit, restyle, rewrite.

After rewrites, talk about what's on deck for the next day, at what point photographer and writer should go get the gigantic fresh salmon, packed in ice, on foot, as neither of them wants to drive the cook's car.

Receive visitors to pack up leftovers for nearby Chilean friends and family.

Finish working around 10 PM.

Repeat for a total of eleven times.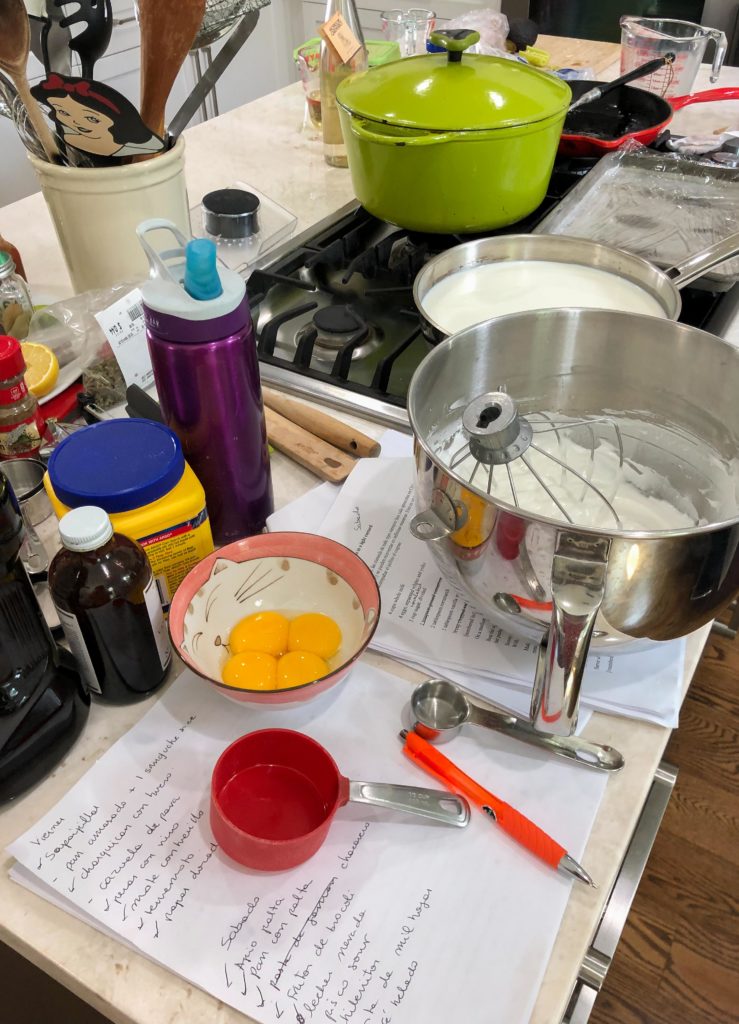 Print out photos for all of the recipes, and tape them on the wall along the staircase to decide final recipe order. Marry everyone's printed out notes onto one google doc.

Fly everyone home, and welcome family back to Houston home. Chef and writer keep working on the files (moving to OneDrive) at the request of the publisher. Submit manuscript eleven months after offer was first made.

Within two months, finish all edits, changes, corrections, proofreading, photo selection, photo placements. See page on Amazon for first time.

And now we wait for the book's release in May, 2020.